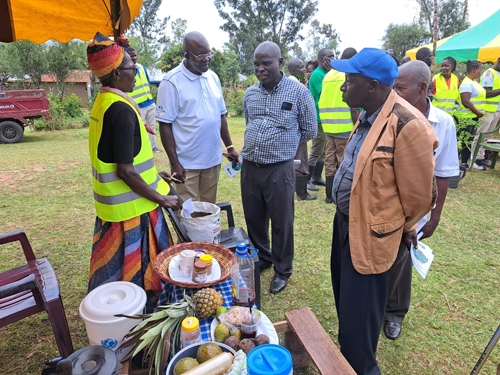 On the 3rd of August, 2023, a remarkable event unfolded as the Devolution and Climate Change Adaptation Program, in collaboration with the County Government of Homabay, orchestrated a Climate Smart Best Practices Exhibition. This exhibition, a testament to grassroots innovation and scientific collaboration, unveiled a rich tapestry of rural climate solutions that seamlessly intertwined simplicity and scientific rigor to confront the pressing challenge of climate change.
Among the exhibits, clean cooking stoves showcased, a compelling fusion of tradition and modern efficiency. This innovative presentation underscored that even mundane daily activities can be transformed to mitigate environmental impact.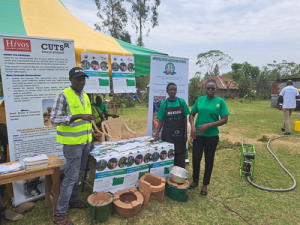 A standout innovation emerged in the form of solar-powered pumps, silently facilitating the growth of crops once constrained by water scarcity. Thriving potatoes and pineapples bore witness to the transformative potential of technology in nurturing life across arid landscapes.

The collaborative synergy between local farmers and the research team from the University of Nairobi yielded a scientifically proven groundnut species. Thriving in the western part of Kenya, this legume stood as a beacon of hope for enhanced agricultural productivity.
Organically developed fertilizers marked another stride towards sustainability, embracing nature's wisdom to enhance yield while minimizing environmental harm.
The harmony between agriculture and livestock resonated in the form of Sahiwal goats, emblematic of resilience and rapid growth while providing a sustainable source of milk.
Solar pumps, illuminating the potential of water-driven growth in the portable fit farm model, not only fostered agricultural prosperity but also contributed to the sustainable production of black soldier flies, an alternative source of fish feed.
Culinary innovation also found its place, with a simple yet ingenious solution to food wastage and methane release – a snack derived from leftover eggs and once-discarded "ugly" produce.
The Climate Smart Best Practices Exhibition marked a defining moment in our journey towards a greener, more harmonious world. It celebrated the fusion of ancient wisdom and contemporary science, painting a portrait of hope and resilience. As the curtains fell, it ushered in a beginning – a collective stride toward a brighter, sustainable future.