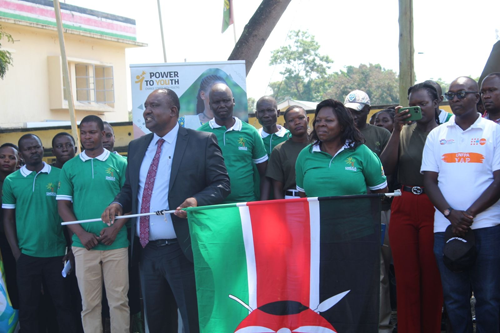 The Devolution and Climate Change Adaptation programme in collaboration with the County Government of Homabay commemorated the International Youth Day 2023  under the theme "Green Skills for Youth: Towards a Sustainable World" on August 12th, 2023, at the Tom Mboya Labor College Ground. The event aimed to raise awareness about the importance of green skills in achieving sustainable development, especially for young people.
The air was electric with optimism as attendees gathered to explore the profound concept of green skills and their pivotal role in propelling our planet towards a harmonious tomorrow. Against a backdrop of shared aspirations, the event soared with insightful speeches that resonated deeply.
Distinguished voices took center stage, including the charismatic Chief Officer overseeing Youth Affairs for Homabay County, who eloquently emphasized the dawn of a transformative era. A monumental paradigm shift was acknowledged – a global journey towards environmental sustainability, where every action, every choice, echoes across time. This shift, she ardently expressed, goes beyond mere rhetoric; it's the cornerstone of combating the pressing climate crisis and stands as a beacon guiding us toward the coveted Sustainable Development Goals (SDGs).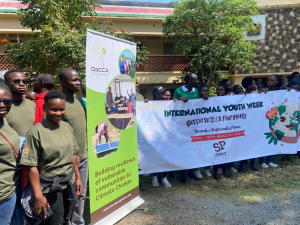 In a harmonious chorus of thought and purpose, the Commissioner for Homabay County echoed this resounding call for change. He boldly underlined the pressing need to nurture green skills, those multifaceted gems comprising knowledge, competencies, values, and attitudes. With fervor, he cast light on their transformative power – not only in cultivating environmental harmony but also in dismantling obstacles to productivity, including the scourge of drug abuse.
The heart of the matter lies in a seamless transition – one that is rooted in the cultivation of green skills. These vital attributes are not only tools for survival; they are the conduits for our collective triumph. Together, they paint a vivid tapestry where coexistence thrives, where cultivation of resources flourishes, and where sustainability is upheld with unwavering dedication.
As the echoes of impassioned speeches lingered in the air, attendees departed with ignited spirits and a renewed commitment to being agents of change. The International Youth Day 2023 had not only commemorated a moment but sowed the seeds of a future brimming with promise. The theme, "Green Skills for Youth: Towards a Sustainable World," had transcended mere words to become a catalyst for action, an invitation for each individual to become a steward of our planet's destiny.